How To Pick The Perfect Bathtub Style For Your Bathroom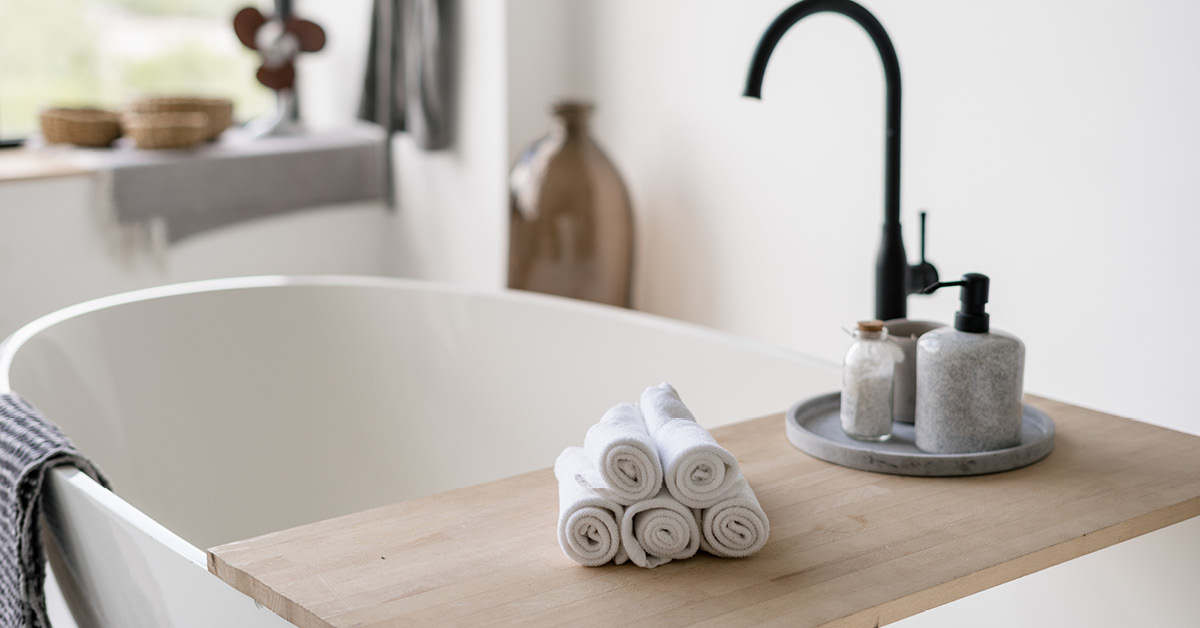 If you are looking at improving your bathroom, the bathtub is one of the most important elements to consider. The bathtub is usually seen as the focal point of your bathroom. It makes a strong statement about the overall design and concept. You can keep it simple by merging it with other fixtures creating a unified aesthetic, or you can choose a tub that stands out.
Steps to Choosing the Perfect Bathtub
The first step is to determine where you want your new bathtub to go. You then need to measure the width and depth of the available space. The amount of space you have will largely influence what style of tub is right for you; while you may be inclined to an oval-shaped freestanding bathtub, you might only have enough space for a bathtub that is round. Knowing this information will help you find the right bathtub for your bathroom.
Bathtub Styles
The tub-style you select is a question of personal taste. The following bathtub options are some of the most common and well-known designs for your bathroom layout.
Japanese Soaking Tubs
Soaking tubs or 'Japanese' style are typically oval or circular tubs. These soaking tubs are generally taller than regular bathtubs, allowing you to sit comfortably while soaking. Soaking tubs tend to come in various sizes as a soaking tub offers longer, elegant styles for larger homes and compact soaking tub versions for smaller homes. If you want to add a hint of luxury to your home and a great way to relax, a soaking tub is a great choice.
Whirlpool Tubs
A whirlpool tub has built-in jets. The whirlpool tub jets are either water or air jets; their primary purpose is to massage you, which creates a relaxing bath experience, relieves sore muscles, and boosts your well-being. Air-jet whirlpool tubs contain dozens of small jets that pump warm air to create air bubbles, while a water-jet whirlpool tub has fewer but larger jets that push water at high speeds. Whirlpool tubs offer a deeper massage than any other tub on the market.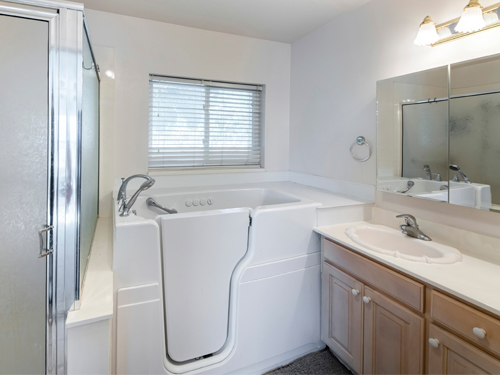 Walk-In Bathtubs
Walk-in bathtubs are designed to encourage accessibility by allowing users to securely enjoy a luxury bath by stepping into the tub without the fear of slipping. Walk-in tubs have grooves and notches on the inside of the tub to provide grip and feature handholds or grab bars for balance and stability. Walk-in tubs mother-in-law suites or homes for the elderly so they can bathe without assistance.
Drop-In Bathtubs
Beyond the visual aspects, there isn't much difference between a drop-in bathtub and an undermount tub. Drop-in bathtubs are installed by dropping them into a scooped-out area and subsequently sealed in, so the rim is more visible. Whereas, undermount tubs hide the rim by being installed beneath the surrounding deck. Both tub types save space, come in various bathtub materials and styles, and you can even get drop-in tubs or undermount tubs as jetted bathtubs!
Air Tubs
An air tub has many tiny jets that pump heated air into the bath water to create a massaging sensation. Air tubs, unlike whirlpool bathtubs, use their jets to create a bubbling sensation rather than a deep, massaging sensation
Unlike whirlpools, air tubs do not require frequent cleaning. On the other hand, air tubs do not maintain heat as long as whirlpool tubs and are ideal for brief massages rather than a long soak.
Alcove Bathtubs
Alcove tubs require three walls that connect and have just one finished side. An alcove tub is a common choice for apartments or households with smaller bathrooms. Alcove tubs often have a shower combo option, which saves a lot of room.
Freestanding Bathtubs
One of the most popular bathtub options is freestanding tubs. Freestanding bathtubs can fit just about any space and do not require installing connecting walls. Freestanding bathtubs are a more vibrant centerpiece for your bathroom aesthetically compared to most drop-in tubs and are evenly priced compared to options.
Clawfoot Tubs
The most traditional bathroom design dates back to the Victorian era and is still popular today is a clawfoot tub. The clawfoot is a freestanding tub supported by four 'claws' or legs on the bottom.
Types of Bathtub Material
When looking for the ideal bathtub, the tub's composition is an important factor to consider. When it comes to bathtubs, comfort and longevity are frequently the most important factors to consider. Take the time to explore and touch all of the different materials to see which one is the most suitable for you. The weight of the tub is also affected by its content. Before deciding, find out how much weight your flooring can safely support, especially if the bathtub is above ground level.
Here's a rundown of popular bathtub materials:
Fiberglass Bathtubs
Is the cheapest bathtub material, constructed from reinforced plastic sheets. Fiberglass bathtubs are lightweight, durable, and easily repairable material since these tubs are prone to chipping. Fiberglass bathtubs are also very porous which can cause the material to warp over time.
Acrylic Bathtubs
Lightweight and available in many styles and sizes, acrylic is a popular choice for both drop-in tubs and freestanding tubs. Although an acrylic tub looks and feels quite similar to fiberglass, the material is non-porous, making its durability much higher. Acrylic tubs are lightweight, resistant to chipping and hard impacts, and come in a variety of colors and shapes.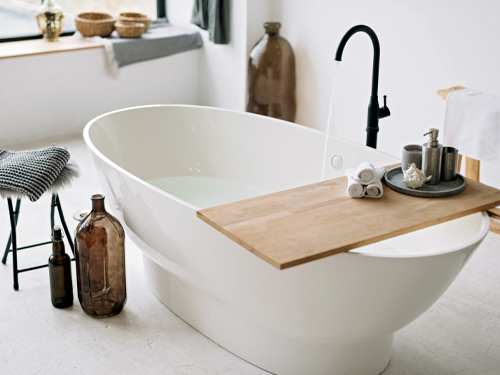 Porcelain Bathtubs
Porcelain tubs are typically constructed using a cast iron or steel foundation making this tub quite durable and non-porous. Porcelain bathtubs have a rich look and feel, and the glossy surface will last for years.
Cast Iron Tub
This type of tub is constructed from enameled cast iron is durable and sturdy. Cast iron tubs are long-lasting because they are a material that retains heat well.
Ceramic Bathtubs
Ceramic bathtubs are formed by molding numerous ceramic tiles together until it hardens. The benefit of this construction method is that ceramic is quite similar to clay, meaning it comes in many different styles and sizes, more than any material available. You must continually maintain your ceramic tub, or it will eventually deteriorate and crumble.
Stone Resin
Stone resin is a material composed of crushed natural stone to give you a composite tub material that looks and feels like natural stone without the additional weight and cost. A popular choice as it is a solid middle ground between price and quality, stone resin offers excellent durability and heat retention while also being non-porous and quite affordable. The only limiting factor with a stone resin tub is that there aren't a lot of style choices compared to other bathtub materials.
Cultured Marble
Cultured marble is made from crushed limestone and resin. This tub material can retain heat very well and are durable while carrying an excellent pearlescent shine. However, cultured marble is a costly material, with a starting price tag of $700. This tub is also quite heavy, adding more hassle to install, and it will discolor and stain without regular maintenance.
Bathtub Shapes
Bathtubs are available in a wide range of designs and sizes. Here are some designs to think about while selecting a bathtub.
Rectangular Bathtubs
Rectangular bathtubs provide a more modern look. These tubs are adaptable to any layout because of their shape, and the crisper lines and ridge can make them stick out in the room.
Oval Bathtubs
Oval-shaped bathtubs are another popular choice for many smaller homes or apartments, these bathtubs have a more modern look because of their pleasant rounded corners and stylish appearance that contrasts well against the sharper corners and edges of the rest of your bathroom.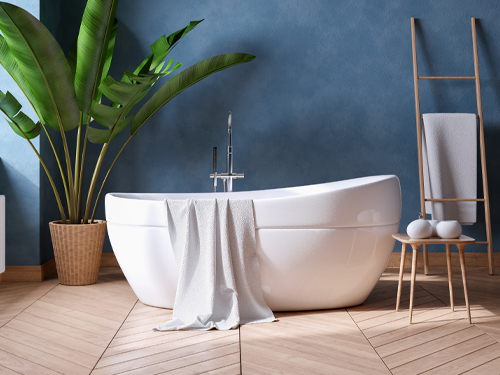 Angled Bathtubs
This tub is slopped higher on one or both ends, which while sitting upright supports your neck and back during your bath. With flexibility in size, this tub can be equivalent to a standard tub or larger tub, making them practical and comfortable while maintaining a classic look.
Corner Bathtubs
A corner tub is similar to an alcove tub but much larger and is designed to fit into corners. A corner bathtub looks more like a hot tub than a standard tub. Corner tubs will also maximize your existing space, give additional bathing areas, and have a unique, visually appealing design.
Additional Bathtub Features
Many bathtub manufacturers provide a variety of features to enhance your bath experience.
Here are some additional features you can choose for your bathtub:
Jets & Whirlpool Features
In-line warmers, foot massage jets, bubble jets, whirlpool jets, and a variety of other features can transform a simple bath into a complete spa experience.
Chromatherapy Features
For Chromatherapy, use underwater lights that change color to fit your mood to create a relaxing, calm environment.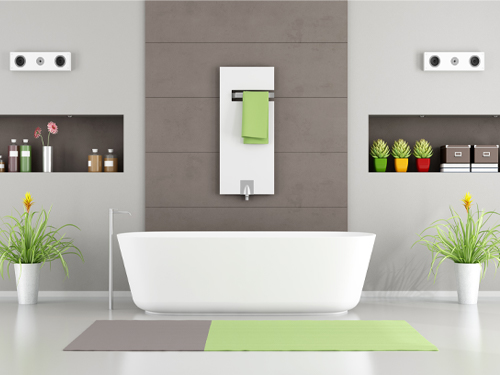 Music Features
Built-in waterproof speaker panels can emit vibrations through the water. You might also link the speakers to listen to your personalized playlists.
Heating Features
A built-in heating panel for your bathtubs basin and walls are heated in addition to the water to provide warmth and comfort to the legs, back, and shoulders.
Which Types of Bathtubs Should You Choose?
There are many factors to consider in choosing the correct bathtub for you; whether it be size, price, or comfort, it is best to do your research before buying. Measure your space, consider the needs of the people in your home, and without a doubt, you will find the right bathtub for your home.