Home Remodeling Contractor Columbus Ohio
Home Remodeling That Will Change Your Life
Imagine your home, but at its best. With a major remodel, you can finally enjoy your space in the way that you have always dreamed of. When you remodel your home, you transform your life. See for yourself the life changing effects a home remodel can have on your life.

Quality Craftsmanship

Attention to Detail

Affordability
Make Your Home a Priority
We understand your home may not be your first priority. Remodeling your kitchen or bathroom does not take priority over driving your kids to practice, family dinners, or that big work presentation. Face it, your home is neglected, even though it is one of your biggest investments and the single place you spend most of your time.
Even so, it's about time to do something about the spaces you're not happy with within your house. You know more than anyone what we are talking about. You should be happy spending time in your home. Don't feel trapped in your own home by lingering outdated or poorly-functioning spaces.
Do more with your living space and take back your pride with the help from the home remodeling contractors at RH Homes. RH Homes is a full service residential contractor, incorporating creative design and excellent craftsmanship in Ohio homes since 2004.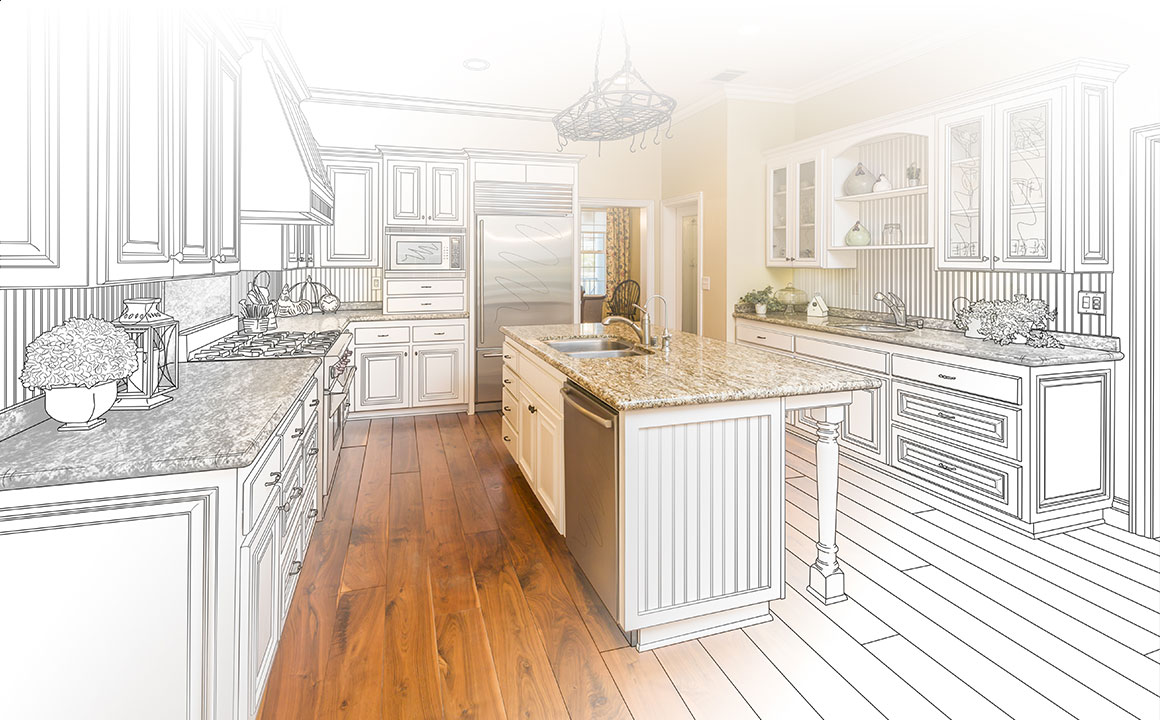 Exceptional Design & Quality Service at an Affordable Price
Whether you're building a custom home, or simply want to remodel your existing home, at RH Homes the answer is yes, we do it all. Is your kitchen in need of a remodel to function better? Is your bathroom outdated? Do you need more space or better functional design? The answer is yes we can help you.
Don't pack up and move to another house. Improve the value of your home with smart design, quality materials, and outstanding craftsmanship. With our decades of experience, we will guide you through the process of creating the dream living space for you and your family. RH Homes is an expert in custom home construction and residential remodeling in Columbus, Ohio.
R.H. Homes Helps Turn your House into the Home You Want
R.H. Homes' remodeling services help turn your house into the home you want.
Whether you're looking to improve the look and functionality of your kitchen, create a spa-like experience in your master bath, or make your bedroom the ultimate relaxing sanctuary, R.H. Homes' professional services will help you realize the perfect solution and get the home you'll love calling your own for years to come.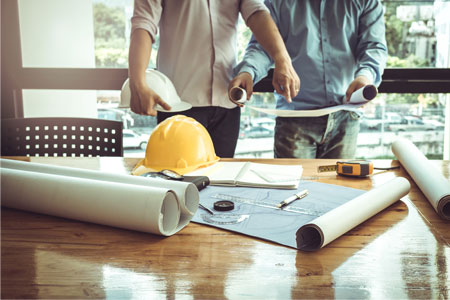 Your Home Can be as Unique as You Are
R.H. Homes has the experience, design expertise and general contractor talent to custom build your new home to be as unique as you are. Every element of your new home should speak to you and about you. Every aspect should enhance your vision of yourself and your family. So, don't settle for cookie cutter design when you can have a home that is uniquely you!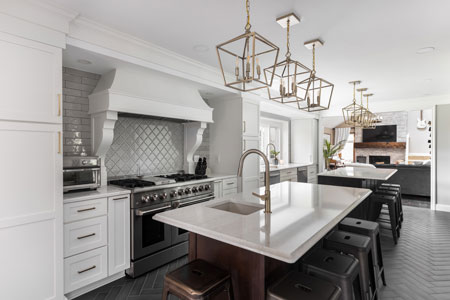 Get Cooking in a Kitchen Designed to Inspire
R.H. Homes can transform your drab, lackluster kitchen into a showplace worthy of Top Chef. The talented team of designers at R.H. Homes will create a kitchen remodel that goes beyond all expectations, and that will get your creative juices flowing again just in time for dinner!
Enjoy the Go
A bath tissue brand got it right: Everybody goes, so enjoy the go. The same could be said of a newly renovated bathroom by R.H. Homes. Designed to perfection and outfitted with beautiful fixtures and finishes, you'll definitely enjoy the go in an R.H. Homes-designed bathroom. And it won't take as long as you think.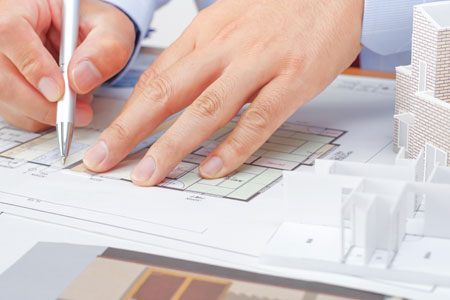 Expand Your Horizons
If you're running out of usable space within your home, it may be time to consider a quality home addition to expand the square footage and space utilization you need to live comfortably. Whether you need more space for an office or workshop, additional living quarters or storage, a home addition by R.H. Homes gives you and your family options.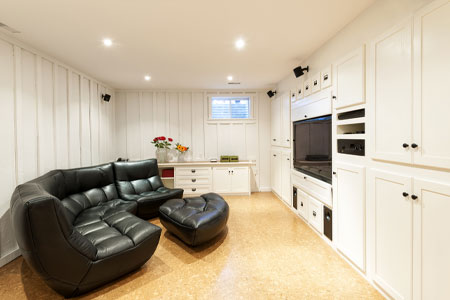 Family Fun, Workout Room or Man Cave
A well-designed and executed basement remodel can help maximize the space in your home, and it doesn't have to look dark and uninviting. R.H. Homes can create a space that's perfect as a family fun room, an exercise gym, home theater, game room, or the ultimate man cave. A basement renovation also adds significant value to your home.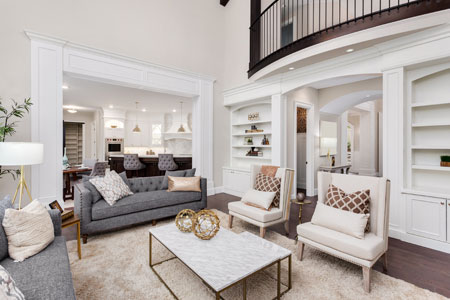 Living Rooms Live Up to Their Title
Living rooms get their name for a good reason, there's a lot of living, relaxing, entertaining and unwinding that gets done in them. They are among the most important rooms within a home, and so have earned a special place. And, because of their size and utility, they offer great opportunities for smart, awe-inspiring renovations.
Your trusted R.H. Homes designers and contractors can create and deliver a living room with wonderful finishes and features that are on trend and sure to impress for years to come.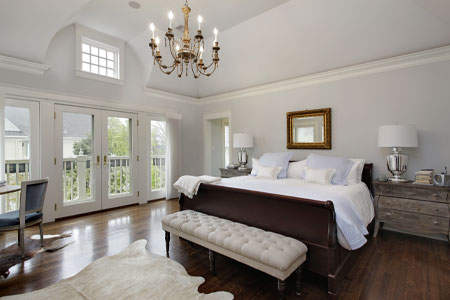 A Tranquil Retreat
Having a tranquil and restful place to lay your head at the end of the day is important. A master bedroom renovation can not only transform your current bedroom into a comfortable and serene place but it will also improve the overall value of your home.
The variety of floorplans and configurations make a bedroom remodel extremely rewarding for the homeowner, but there are lots of factors to consider. That's why working with the expert local contractors with R.H. Homes is your best bet when taking on a project of this size and importance. The R.H. Homes team will manage every aspect of the process to ensure you get the tranquil retreat you want with your new bedroom remodel.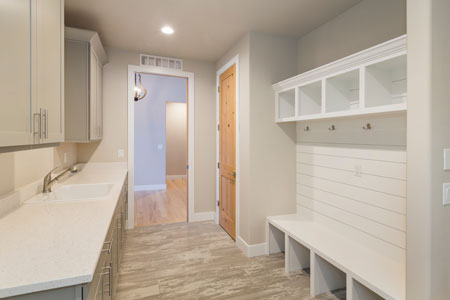 No Mud-Slinging Necessary
While mud rooms don't get a lot of attention, they see a lot of action. Traffic, storage, organization, sometimes laundry. Often anything that doesn't fit nicely someplace else, ends up in the mud room.
It's time to give the mud room the love it deserves with a renovation that maximizes the function of the space and that also helps your entire family get better organized. A mud room renovation is the type of home improvement that quietly pays huge dividends by making your family get better organized (without them even knowing it). Shhh.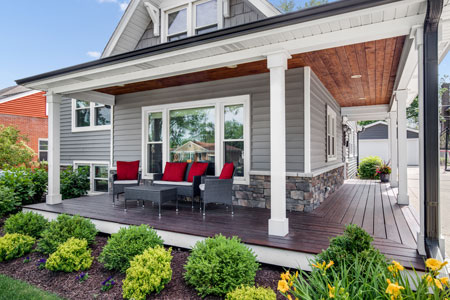 A New Porch Makes the Summer Breeze Feel Fine
Enjoy the warm breeze and an ice-cold glass of sweet tea on your amazing porch built by R.H. Homes' porch remodeling experts.
A new porch can increase the overall curb appeal of your home while increasing the living space. R.H. Homes designers can create the look and feel for your new porch that mirrors your current home so it looks as if it's always been here. The styles and configurations are nearly endless. The professionals at R.H. Homes can answer all your questions about the benefits of a new porch.
Transform Your Home with
RH Homes in 4 Simple Steps

Initial Consultation & Estimate
Our project manager will come out to your home to meet with you and listen to your wants and needs. We'll discuss your entire project to include an ideal budget, set priorities, and develop the time frame to get your project started. We'll discuss what design, finishes, and budget you'll need to make your home remodeling project a reality.

Design Your Space
Our designers will draw up plans that show the new layout and functionality of your new build or renovation. Based on your approved design, we'll guide you through the selection process of the fit and finishes you'd like to have.

Build Your Space
We'll work hard to prepare and build out your new spaces or custom home. Everything from demolition and clean-up to framing, electrical, plumbing, and construction. We'll put the final touches and care that your new master bathroom remodel deserves. Whether it's a custom home build or home renovation project.

Guarantee Your Space
R.H. Homes completely stands behind every home remodeling or custom building project. Should there be any construction issues beyond our guarantee period for one of our home remodeling or custom home builds, we'll determine if it is a construction issue and get it fixed!
How Many Trips to Home Depot Does It Take Before You Have Everything You Need?
While doing-it-yourself may seem like a good idea for your next project, a major home improvement is simply too much for the average do-it-yourselfer.
If your next home remodeling project involves a substantial kitchen remodel, bedroom remodel, or major remodeling projects in the basement, living room, or even a home addition, you need the excellent service and quality work that the team of professional designers and local contractors at R.H. Homes bring to each new project.
You can bring all of your design ideas to the knowledgeable and experienced team at R.H. Homes, who will draft the designs and create a plan with your complete satisfaction in mind. They will lay out a detailed schedule and manage every phase of the project to completion.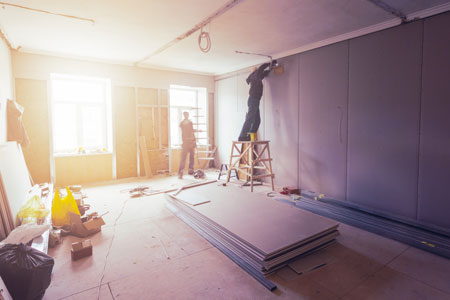 Don't Hide Your Home Anymore
You must be thinking about remodeling your home, or you wouldn't be here. Don't be embarrassed of your home any longer. When was the last time you welcomed visitors to your home or threw a dinner party or a cookout with friends? The answer could be real soon with the help from the home remodeling contractors at RH Homes.
Say goodbye to the crusty, old, dingy design your home has now. Stop hiding your home from friends and family. Welcome loved ones into your home with open arms. Just wait and see, your home will steal the spotlight and become the star of the show.
Kind Words from Our Customers

We had a main bathroom that needed attention, as well as an outdated entry way and powder room. John from RH Homes met with us, arranged for us to meet with suppliers for plumbing and tile, and we were on our way to a new home. John was responsive to my questions, gave me updates on the timeline, and overall did a fabulous job on our home remodeling project. I would recommend John and RH Homes without hesitation.

We are delighted with our complete kitchen remodeling. Over the course of a year we removed a wall, redid the lighting and put in new cabinets and counters. John worked with us to accomplish the result in stages, that made it manageable and comfortable. We would heartily recommend him to all.
V. Miles | Canal Winchester

The team was very professional and great to work with. Listened to my requests and did a great job of following up on each item. Scheduled around my own needs such as moving in, completing work before company arrived, etc. Very high customer service. Any time I brought up issues or made changes, they addressed very quickly. I was very pleased with work and enjoyed working with the team on my home remodeling project.
B. Dorrian | Upper Arlington
Indulge in the Serenity of Your Own Home
With help from RH Homes, you can finally live comfortably in your own home. Your home is your sanctuary. Come home to a luxurious, fully lit, newly remodeled bathroom fit for royalty. Entertain family and friends in your remodeled kitchen that you've only seen in magazines. Don't keep wishing for a change in the design of your home. Make it happen. Your local home remodeling contractors, at RH Homes, will infuse your home with smart design, functional layouts and comfort based on your needs.
Frequently Asked Questions
Do your services only include remodeling and renovation?
What rooms in the house do you remodel?
How long will the renovations take to complete?
Renovations come in all shapes and sizes, so it's hard to give a definitive answer. For a frame of reference, an average remodel lasts around 3 months. The bigger the remodel, the more time it takes.
How do I budget for a home remodel?
First, determine how much you want to invest in your home. Crunch some numbers and only act within your means. Once you've decided how much you can set aside and designate towards the remodel, contact RH Homes and we can walk you through the budgeting and planning process.
Can you provide a portfolio of previous work?
Yes! We take an enormous amount of pride in the work we do. We invite you to get ideas for your future projects by visiting our Recent Project Gallery to see recent and current project photos in Columbus, Ohio.
Can I live in my house during the remodeling process?
Yes! Our team expects people to be in the house while they are working. We are very conscientious about your living space and we make an extra effort to minimize disturbances to your family and neighbors while we are remodeling your home.