How to Make a Small Kitchen Feel Big
Are you moving into a new house with a small kitchen, but you are worried about the kitchen size and feeling too cramped? Or have you outgrown your kitchen and you're looking for an upgrade? This guide is for you.
A small kitchen can be a nightmare, especially if you are a cooking enthusiast who spends most of the day in the kitchen space. While a full-kitchen remodel is the go-to and most expensive solution, a smart home owner should explore all their options.
10 Ways to Make Your Small Kitchen Feel Bigger
One of the main factors that make a kitchen look small is clutter. Your first step to making your kitchen feel bigger should be to strip your kitchen of all the clutter. Take everything out of your kitchen that is occupying counter space or open shelving to truly discover how much space you have to work with.
The following 10 clever design tricks can help you create an illusion in your kitchen to make the small space in this room feel bigger.
1. Switch to a Wall Oven
Switch to a wall oven and give your kitchen more space. Often a freestanding oven wastes precious floor space and impedes the flow of traffic. We are seeing more and more wall ovens in newer homes, but traditionally the oven is below the stove, taking up sacred storage space.
A wall oven is ideal if your kitchen space is limited. Wall ovens are integrated into the wall and surrounded by kitchen cabinets and storage space. Although wall ovens consume a decent amount of wall space, most homeowners prefer this oven because they save space and easily blend with the kitchen design. You can use this wall oven buying guide to help you pick one that suits your kitchen best.
2. Swap for A Single Sink
Choosing to sacrifice the small space in your sink is a small price to pay to give yourself more counter space. Downsize your sink from a double sink to a single sink. Often, a double sink leaves an awkward amount of unusable space on either side. Fortunately, you can reclaim this space and use it for other kitchen purposes such as storage or meal prep. Your kitchen feels bigger with under-mount sinks that fit well in your kitchen space. Increase your counter space with a single sink.
3. Use a Glazed Roof Instead of a Solid One
Let's take a look up. Your ceiling could be making your kitchen feel claustrophobic. A well-planned kitchen ceiling can make the space feel larger. Of course, this plan is a kitchen design idea that requires careful planning, as you have to take into account the space above your kitchen.
Insulation is important if you choose to raise your kitchen ceiling, as insulation prevents noise, smoke and heat from escaping into the rooms above. You will be surprised how much more vertical space will change the entire feeling of your kitchen.
Another idea to open up your kitchen ceiling is to utilize a glazed roof. A glazed roof is basically a window in your ceiling to let in much-needed natural light. If you are on a budget, but still want light shining down on your kitchen, consider implementing a roof light.
4. Choose Bright Lighting for the Kitchen
As mentioned before, lighting is an important aspect to make a small kitchen feel bigger. There are 2 ways to direct more light into the kitchen: artificially and naturally. You can implement recessed ceiling lights to create artificial light or with remodeling, you can include more windows in your kitchen to create natural lighting.
Kitchens with high ceilings should be filled with natural light, as the light can engulf the entire room making it feel bigger. As you let in light, it is important to plan how you will keep it out. Choose window treatments that complement the room.
If your kitchen has a low ceiling, cluttering it with unnecessary light can make the room look smaller. Therefore, it is important to consider integrated lighting to make your room feel airier. Strategically place these lights in the room, beneath the cabinets and in smaller spaces to create an ambient feel in the kitchen.
5. Change your Kitchen's Color Palette
While the kitchen color you choose is a personal decision, having one or two dominant color choices can help make your kitchen feel bigger. Too many colors can make your kitchen feel busy. Do not mix a variety of colors because this can easily ruin the design of your kitchen. However, a little shade or mix of the same color creates a continuous block that flows nicely together. Try to stick with neutrals and non-bold colors.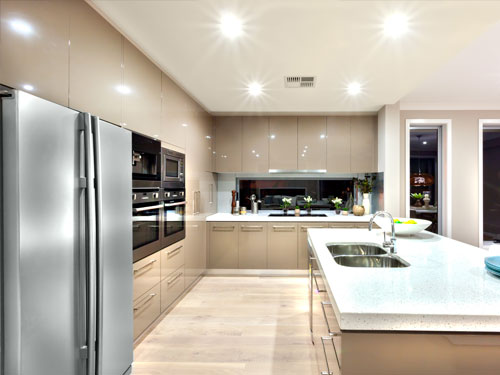 6. Include Light-Reflecting Accessories in Your Kitchen
Do not stop at kitchen design when you're replanning your kitchen's layout. A well-designed layout goes beyond appliances and cabinets. A few accessories, used sparingly, in the kitchen can add decorative touches that bounce light around the room. For example, glass pendant lights hanging from the ceiling can reflect light and increase the effect of natural light in the room. Also, consider a light-reflecting backsplash behind your kitchen sink to enhance the room.
7. Choose an All-White Color Scheme
There is nothing new here; the color white is known for reflecting light in the house. White or other light colors can help make a small kitchen look bigger. Paint your kitchen cabinets and walls with a shade of white to enhance the available space in your kitchen. Also, utilize neutral colors for your accessories, decorations, and countertops.
Avoid dark colors in your kitchen. Dark colors create an illusion of shadows and can make your small kitchen look even smaller.
8. Limit Your Appliances to Save Floor Space
Your kitchen furniture and appliances alone can take up most of the floor space in your kitchen. Consider replacing your current furnishings with those that do not add visual bulk. Include narrow tables, small islands, or foldable tables to make your kitchen look bigger.
When you are choosing less bulky furnishings, be cognizant of the line of sight in your kitchen. Where are people looking? What are they looking at? Acknowledge these lines of sight and avoid interrupting them.
A dishwasher often takes up storage space you could better utilize in the kitchen. However, you can save up to 6 inches of space using a compact dishwasher.
9. Add Glass Door Cabinets to Reflect Natural Light
Glassdoor cabinets are one way to make a small kitchen look bigger. This way, you ensure that your kitchen becomes airier without disrupting the storage space. Swap your current cabinet doors for glass doors and watch the depth of your kitchen grow with a view into your wall cabinets. You can choose frosted glass cabinet doors instead of clear glass for a partially-hidden view of your kitchenware. Glass doors are important to ensure even distribution of lighting in the kitchen and a classy way to give your upper cabinets a face lift.
Remember, if you decide to use glass doors for your wall cabinets, anyone can see inside the cabinets, so it is important to keep these areas organized and clear of dust.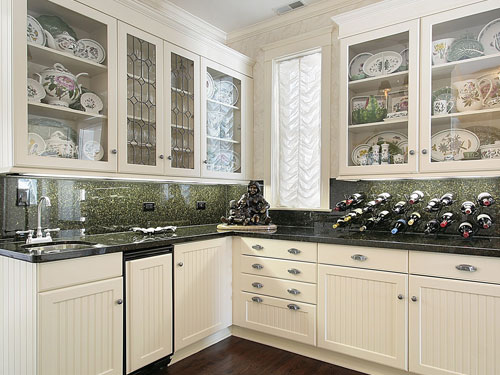 10. Use a Dual-Function Backsplash for Storage Space
A functional backsplash that can be used to store tools and utensils. Whether you include a magnet on the wall to store cutting knives or hangers to store pots, pans, or utensils, the space behind your sink and prep area should not be wasted. Make the most of your storage space. A dual-function backsplash will save your floor space by decreasing the amount of storage space you need in your kitchen.
For a narrow galley kitchen, dual-function backsplashes are a great way to utilize your space. These backsplashes are the perfect DIY project and they can also be renter-friendly.
Consult an Expert for All Your Kitchen Remodeling Needs Today
After reading this guide, you may have sparked some kitchen remodeling ideas. Trust the experts at R.H. Homes to take your kitchen to the next level. Make the small space in your kitchen look like a larger space. Talk to a professional kitchen remodeling expert to help you get the best results from your custom kitchen remodel.