Face-Off: Showerheads vs. Shower Curtains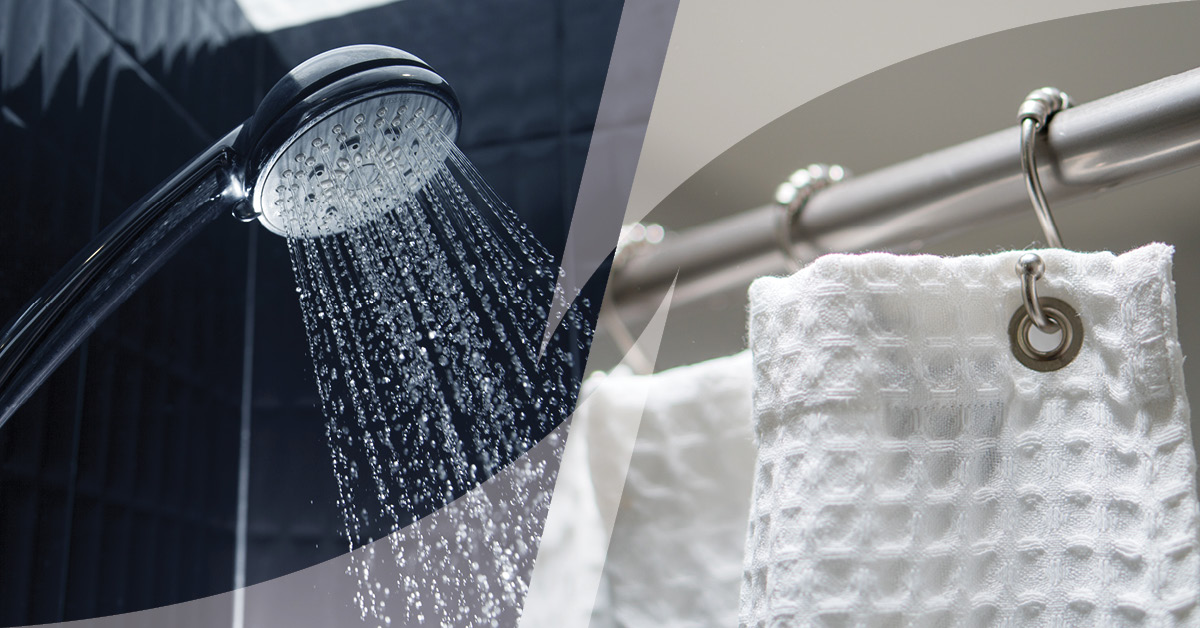 In the pursuit of the perfect shower, which makes the biggest impact, showerheads or shower curtains? Well both, actually.
In this post, we take a look at how to clean your bathroom shower space including; the bathroom floor and shower walls, what types of products are available, and which you should choose.
Cleaning Shower Heads
Is your shower head not performing like it used to? Over time mineral deposits can build up which can cause the nozzles to squirt water in all directions or clog up completely, leaving you with poor water pressure or low flow.
Cleaning your shower head is relatively easy. Here's what to do:
1. Rub the Nozzle
Start by rubbing the nozzles to remove any mineral buildup with your hands. If that doesn't work, run a hot shower, and then gently brush with a toothbrush
2. Soak the Shower Head in Vinegar
Here are a couple of ways to do this:
If you prefer to leave the showerhead attached to the pipe coming out of the wall, you can fill a plastic bag with vinegar and wrap it around the showerhead.
– Secure the bag around the head with a rubber band, tape, or a twist tie.
– Leave the bag around the showerhead for a few hours.
– Remove bag and turn on the water for a few minutes to clear the vinegar out of the showerhead.
If you don't mind removing the head from the shower pipe, you can submerge the showerhead in a container full of white vinegar.
– Let the showerhead soak in the vinegar for a few hours.
– Re-attach the showerhead to the shower pipe and run water through the head for a few minutes to clear out the vinegar.
3. Clean the filter screen
Check your showerhead instruction manual on what to do. Usually, you can remove the filter with a pick or tweezers. Clean off any debris and then replace it. You can do this for rainfall showerheads, ceiling shower heads, two shower heads, or multiple showerheads all at once.
Cleaning a Shower Curtain and Liner
If you want a beautiful shower, cleaning your shower curtain and liner is essential, particularly if you have a walk-in shower
How to Clean a Cloth Shower Curtain
Remove the shower curtain from the rod
Put your washing machine on the largest load setting and fill it with warm water
Add one or two drops of detergent or some white vinegar
Hang your shower curtain back on the rod to air dry
How to Clean a Plastic Shower Curtain or Liner
Remove the shower curtain from the rod
Put your washing machine on the largest load setting and fill it with cool water
Add detergent or some white vinegar or bleach to kill mold
Hang your shower curtain back on the rod to air dry
Types of Showerheads
Having a fabulous and relaxing shower experience depends on the type of showerhead you use. Many different kinds of showerheads do lots of different things. There are different spray patterns, sizes, even cool features you may not know you can have.
Here are the different types of showerheads so you can choose which suits you and your bathroom shower best.
Fixed Showerheads
Any showerhead that is directly and permanently mounted is a fixed showerhead, meaning that the showerhead stays in place and you move around to enjoy the water spray. Fixed shower heads are usually somewhat adjustable, moving slightly up and down and right and left so you can exercise some control over where the water is going.
Wall Mount Showerheads
Using a grout pen will also help in whitening the grouts. It's ideal if you're in a hurry and want to clean and get results fast. The pen is not only often antibacterial but also prevents mold growth. Be sure to wash your grout thoroughly before applying and using the pen on your bathroom grout.
Ceiling Showerheads
A ceiling shower head is directly mounted to the bathroom shower ceiling. The water falling from one of these fixtures cascades over your entire body and provides a bathing experience that feels both deeply refreshing and perfectly natural.
Handheld Showerheads
Handheld showerheads are still mounted to the wall or ceiling but are connected with a flexible hose. This allows you to take the showerhead off of its mount and move it all around your bathroom shower. The handheld showerhead design gives you flexibility when bathing your children and pets, allowing you to direct water to specific areas in your shower space. It's a cost-effective shower idea.
Most Common Showerhead Styles
Though there seems to be an almost endless amount of choices when you're shopping for showerheads, there are some common styles that you'll end up seeing again and again. The designs may vary in size, look and finish, but they still perform the same basic function.
Body Spas
Body Spas feel invigorating. Designed to shoot out water in a jet-like fashion that provides a massaging shower experience.
Rain Shower Heads
Rainfall shower heads are another popular concept. Rainfall shower heads are large, often six to twelve inches across, and simulate the experience of being in the rain.
Showerhead Finishes
Showerheads come in a variety of different metal finishes as well. Typical finishes are off-white, white, antique brass, copper, polished nickel, chrome, and oil-rubbed bronze
Since there are many types of showerheads and finishes available, here are some options with chrome fixtures.
Types of Shower Curtains & Doors
There are many types of bathroom shower curtains and doors that you can add to your master bath or a shared small walk in shower.
Glass Shower Door
Most walk in showers or shower stalls are designed to have glass doors. These glass doors are often sandblasted for privacy.
Tall glass doors go from the bottom of the shower cubicle or shower floor to the ceiling, which adds a touch of personality to the room.
Frameless Shower Door
Some homeowners also opt for a frameless shower door with clear glass panels. This type of glass shower door is minimalist and helps the room flow. Frameless showers are particularly popular bathroom design in wet rooms.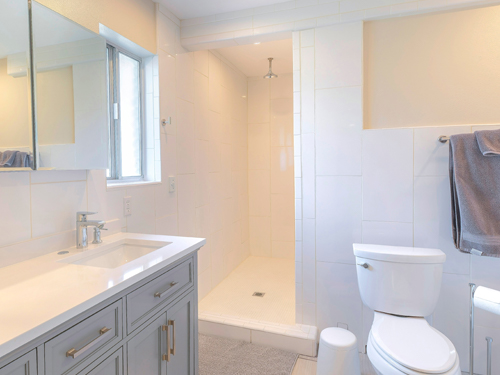 Roman Showers
You might also come across doorless shower designs, which are also called roman showers. Here, there is no shower door at all, and instead, just clear glass panels demarcating the boundary between different parts of the bathroom.
Shower Curtain
There are several different types of shower curtains you will want to consider too. These include:
Extra-wide shower curtains that hide shower tiles behind them
Decorative shower curtains that complement floor tiles
Hookless shower curtains, often part of a walk-in shower design
Microfiber shower curtains which are waterproof around the shower enclosure
Vinyl shower curtains for the shower stall
Cotton shower curtains for a luxury shower experience
Which Shower Ideas Should You Choose?
Glass doors can be a great way to create a more luxurious shower. Walk-in showers with glass walls are a crucial component of modern bathroom design. Glass doors help the shower enclosure feel like an integral part of the room and show off your gorgeous tile work. What's more, a glass shower door is a beautiful interior design tool if you have a narrow bathroom or are working in a tight space. It helps to create a focal point and seamless look that puts the shower at center stage. Combine a glass door with overhead lighting, and you can create a highly functional space and one that looks great.
Shower designs with doors work well with white subway tile and small wall space. Suppose you have a large walk-in shower in a small bathroom or master bathroom. In that case, you can use glass panels to show off the striking feature of your shower, like multiple showerheads, shower bench, recessed shelves, stone floor or floor tiles, and the type of shower tiles, like white subway tile or ceramic tile.
Curtains are another option if you have a soaking tub. They can be a great way to make a small bathroom more functional, allowing people to take a bath or a shower.
As for showerheads, you now have more choices than ever before. Those with a large walk-in shower will want to choose rain attachments, while those with smaller bathrooms may be better suited to wall-mounted shower designs.