Cleaning the Grout Between Your Bathroom Floor Tiles: All Your Questions Answered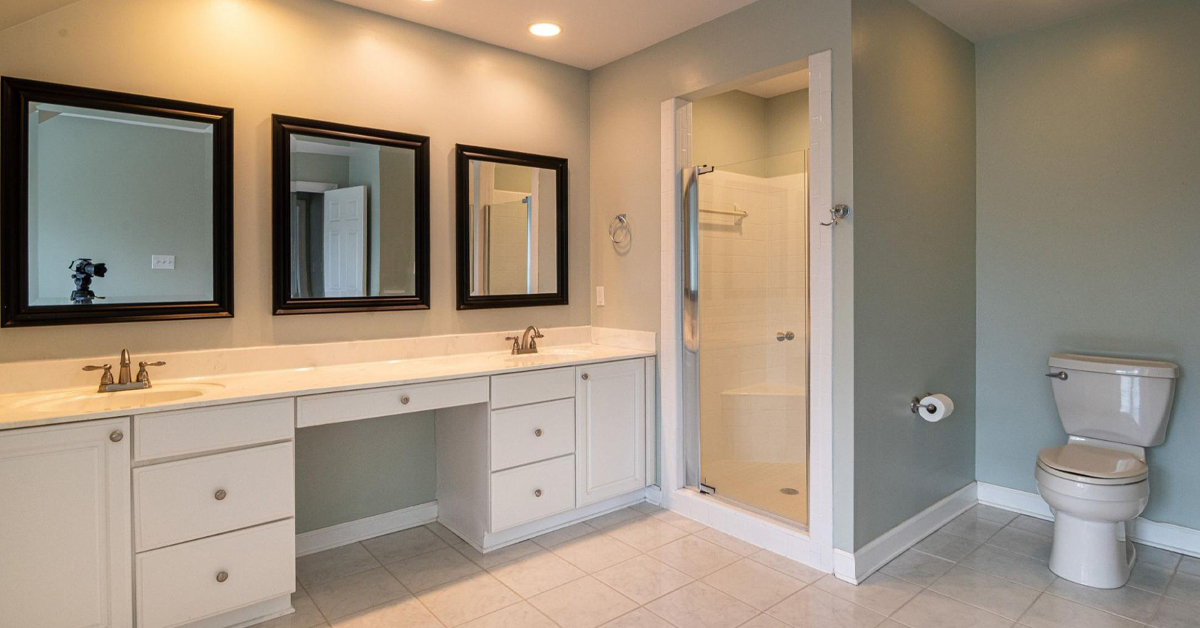 Your bathroom is one of the most important rooms in your home. You, your family, and guests use them often, and they get a lot of foot traffic.
You want these rooms to look attractive and stay looking nice. In this case, you may need to learn how to clean the grout between your bathroom floor tiles. You can review some tips for getting rid of dirt, stains, and mold and get all your questions answered so you can properly clean and maintain your bathrooms.
Tackling Stubborn Grout Stains
Using bleach is one of the most effective ways to remove the stubborn stains in tile grout. It has the cleaning power to disinfect and remove tough stains from bathroom grout simultaneously. 
You want to pour the bleach into a spray bottle and rub it with toothpaste. Start by scrubbing the tile grout with a scrub brush, and then let it dry for at least 15 minutes. Next, wash the area thoroughly, using a clean washcloth, and rinse it well if needed. Be careful using bleach since it's a toxic chemical. Remember to use rubber gloves to protect your hands and never combine bleach with another substance.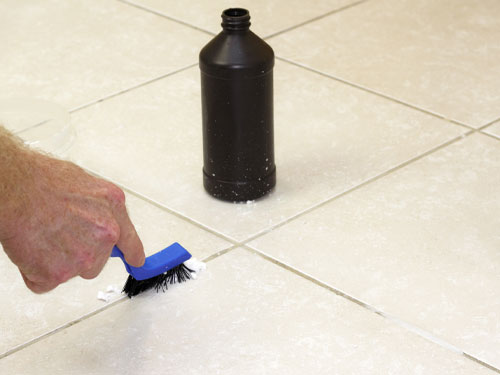 Natural Grout Cleaning Solutions for Tile Floors
There are a few more natural options for cleaning floor tile grout using items you can find around your house, like a baking soda and vinegar solution or using baking soda and hydrogen peroxide and a little dash of dish soap. Read more below.
Homemade Grout Cleaner Option #1: 
Here are the ingredients you'll need to use:
       

1 cup water

       

1/3 cup juice from lemon

       

1/4 cup white vinegar
Start by mixing the ingredients into an empty spray bottle. Then spray and scrub the floors and let them stand.
Homemade Grout Cleaner Option #2 (Which is always a winner!) 
Here are the ingredients you'll need to use:
       

1/2 cup baking soda

       

1/4 cup hydrogen peroxide

       

1 tsp dish soap
Spread the mixture over the bathroom wall tile and floor tile grout, allowing the mixture to sit for a minute or two. Clean tile grout with a grout brush and then rinse with warm water.
What is the Best Recipe for Cleaning Grout
With the proper cleaning solution, it's easy and effective to clean bathroom grout. Be glad to know you can clean your bathroom floor grout the all-natural way as well. Lemon and baking soda are good natural cleaners to use in this case. This specific combination of ingredients effectively removes dirt and grime in your bathrooms. It also keeps your floors looking clean and is natural sanitizer resistant.
What you'll need to do:
Mix baking soda with lemon juice (3 parts)

Paste the mixture directly over the grout for about 10-15 minutes

Rinse it out with water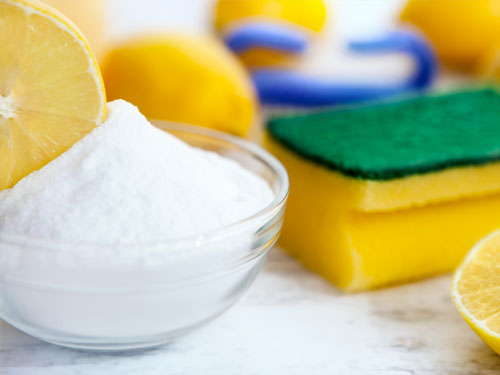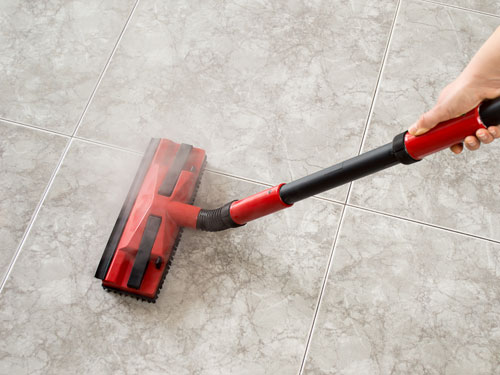 How Can I Get My Grout Line White Again?
You might also be wondering how you can get your grout lines white again, and we have a few methods.
One method that works well and is recommended is steam cleaning. Steam cleaners are the power tools for grout cleaning and can be used in other types of deep cleaning. They make quick work of an otherwise tedious and arm-killing job. Steam cleaners heat water to more than 200 degrees F and have nozzles that direct steam blasts onto the grout. The nozzles can hold special nylon or brass brushes explicitly made for grout cleaning, so you scrub while you steam. The process creates a dirty slurry of grime and water that you rinse or mop away.
Using a grout pen will also help in whitening the grouts. It's ideal if you're in a hurry and want to clean and get results fast. The pen is not only often antibacterial but also prevents mold growth. Be sure to wash your grout thoroughly before applying and using the pen on your bathroom grout.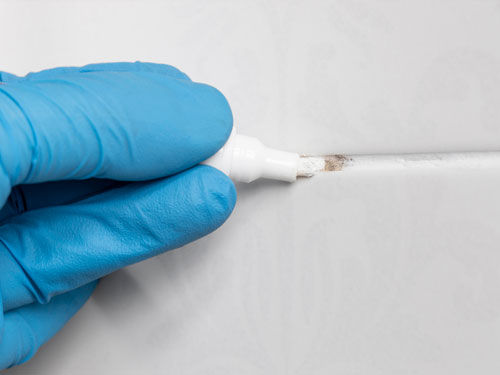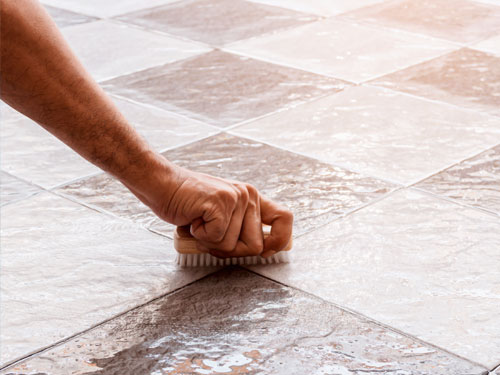 How to Clean Floor Tile Grout
Dust from the outside creates dirt on the entire floor and makes a mess. Dirt can also cause discoloration of floor grout in your bathroom. Water is another effective cleaning solution and way to clean grout on floor tiles. Even if your grout looks discolored, you only need to scrub it with water for it to be effective. Use a grout brush and very hot water to scrub the grout in a circular motion for best results. Next, use a clean towel to wash off all the liquid.
How Do You Clean Tile Grout Without Damaging Bathroom Tiles?
You want to avoid cleaning grout and damaging your floor tile or wall tile. Therefore, you'll want to know the best cleaning method for grout. One option is to make a mixture using diluted water and baking soda, which is odorless. You can then apply it to grout and wait 10 minutes before you begin to scrub with a grout brush. It works and prevents further damage because baking soda is mildly abrasive, which helps clean off dirt in porous grouts without being harmful to the tile.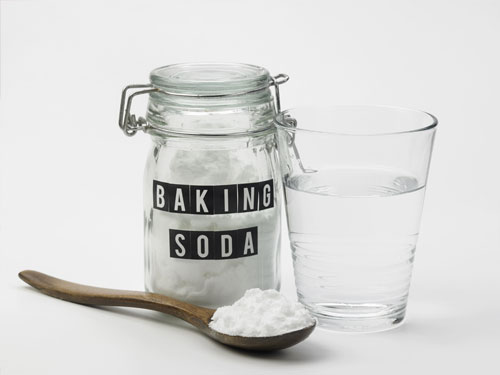 Frequently Asked Questions
How do professionals clean tile and grout?
Professionals who clean grout will use a grout-cleaning machine to do so. The device uses heat and chemical-containing grout cleaner to effectively remove dirt and bacteria from the tiles, drying them as they go.
What's the best and most effective homemade tile grout cleaner?
Mix baking soda and white vinegar in a bowl until you form a thick paste. Use an old toothbrush to work the paste between the tiles into the grout. Allow the homemade tile grout cleaner to work for 30 minutes. Then rinse it off with clean water and wipe any residue away. Repeat the process as necessary if your grout isn't sparkling and clean right away.
Is using bleach bad for your grout?
While it's okay to use bleach on your bathroom floor tiles and grout, there are some precautions to take. Use it sparingly because it can potentially erode your grout over time. Only use it on white grout to not whiten colored grout.
What if my grout is so bad that I can't get it clean?
If your bathroom is old, outdated and filled with moldy and dirty grout, then you may want to consider looking into bathroom remodeling options instead.
Conclusion
Cleaning grout in your bathroom will require a little work and elbow grease but isn't necessarily hard to do. You now know why you should tackle this project and how to go about doing so in the best ways. The good news is that you can most likely get your grout white again and ensure it sparkles and shines when you apply these tips and methods.
If you are ready to update your bathroom, tile, and grout altogether, contact us here at RH Homes to request an estimate and gather more information about how we can help.